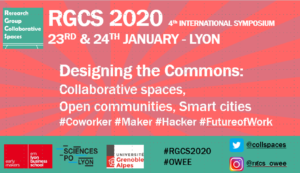 This 4th RGCS symposium #RGCS2020 is jointly organized by emlyon business school, Sciences Po Lyon and  Univ. Grenoble Alpes. The topic of our annual international unconference will be "Designing the Commons: Collaborative spaces, Open communities, Smart Cities".
The Academic (Un)Conference will take place in Lyon (France) on the 23rd and 24th of January, 2020 (+Coordinators Day on the 22nd of January). Researchers, entrepreneurs, managers, activists, students, artists are welcome to share ideas and co-produce the contents of #RGCS2020.
DAY 1 - Thursday, 23rd of January 2020 
8.30am - 1.00pm: at Sciences Po Lyon (14 Avenue Berthelot, 69007 Lyon)
Lecture by Stephane GRUMBACH (INRIA): The Social Responsibility of Researchers - How to do research differently in order to address societal issues?
1.30pm - 7.30pm: OWEE starting at ANACT (14 Rue Passet, 69007 Lyon): Why commons in organizations?
DAY 2 - Friday, 24th of January 2020
8.30am - 4.30pm: at emlyon business school (23 avenue Guy de Collongue, 69130 Ecully)
Keynote Address by David COURPASSON (Organizations, Critical & Ethnographic Perspectives research center -OCE- emlyon business school): 30 years of Ethnography on Work
ConverStations: Academic papers presented in unconventional ways
The 4th RGCS symposium wants to investigate the new collaborative practices inspired by the #commons in the workplace, in the city, in social movements, and their impact on public and private organizations and on society.
Fees: for the first year, we kindly ask you 30€ of fees, as a donation to RGCS for each participant. To be all transparent,  it is easier for us that you donate through this eventbrite, so we have less advanced money to spend.
Follow us on Twitter & Instagram!
Contact: collaborativespaces@gmail.com
We thank very much our partners for this 4th symposium