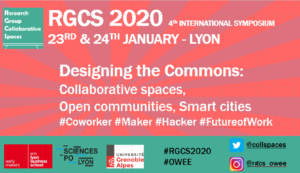 EXTENDED DEADLINE: SEND YOU ABSTRACTS FOR
THE 12th OF NOVEMBER, 2019
This 4th RGCS symposium will be jointly organized by emLyon business school, IEP of Lyon and IAE of Grenoble. The topic of our annual international unconference will be "Designing the Commons: Collaborative spaces, Open communities, Smart Cities".
It will take place in Lyon (France) on the 23rd and 24th of January, 2020 (Coordinators day on the 22nd of January).
Researchers, entrepreneurs, managers, activists, students, artists are welcome to share ideas and co-produce the contents of RGCS 2020. Of course, the program will include our traditional collaborative learning expedition (OWEE)!
Contact: collaborativespaces@gmail.com
Key information for RGCS2020
Abstract: 1,000 words
Deadline for submissions: 23 of October of 2019
Fees: 30€ per participant 
Download the call for papers for RGCS2020:
We thank very much our partners for this 4th symposium